One of the things that I find my customers love talking about is possibilities. The possibilities that CRM and marketing can achieve for them.
If you're not thinking about marketing automation, you should be. Small businesses especially need to think about this more and more. As technology continues to evolve you need to know that your competitors are flocking to the web. The money spent on yellow pages in the past is being shifted to new ways of marketing.
Don't get left behind.
But the question is where do you start? There are so many things you could do but what should be the focus.
The quick hits are going to be email marketing and social media. I've heard time and time again that it takes about 10 – 15 touches to a prospect before they will be engaged with you in service.
What is a touch?
A touch is anything from a phone call, to an email to a connection on LinkedIn. Some companies will track every touch and run metrics against these to determine how long it takes to get a lead converted into an opportunity. I don't advise getting too crazy with this out of the gate but it is something that you should strive for.
What can I use to create a touch?
Email Marketing
The easiest and the most popular is email marketing. This has been a tried true and tested way of staying in touch with your customers. For small businesses that have lots of one-time type customers this is a great way to stay in touch. A good example is a roofer, plumber or realtor.
A great combination is to use something like MailChimp (or Constant Contact) to tie in your email marketing. You can find plugins for all kinds of CRM's that will allow you to sync your database with the email marketing.
No CRM? No problem. You can get started with MailChimp just to get your feet wet then as you evolve things you can quickly move into a CRM product. Integration with MailChimp is a piece of cake with many CRM's.
Social Media
The next option is social media. If you have a Facebook account, you're already set. This is especially true if you're in the Business-2-Consumer space. Facebook is the perfect spot to connect with individual buyers that may want your consumer goods or services.
For our business friends, consider LinkedIn. This is a large collection of professionals sharing their personal details about their careers and job qualifications. It also features several groups where you can connect with other like-minded individuals or even potential customers.
The most popular social media channels, per Dave Chaffey (2016) of Smart Insights is below.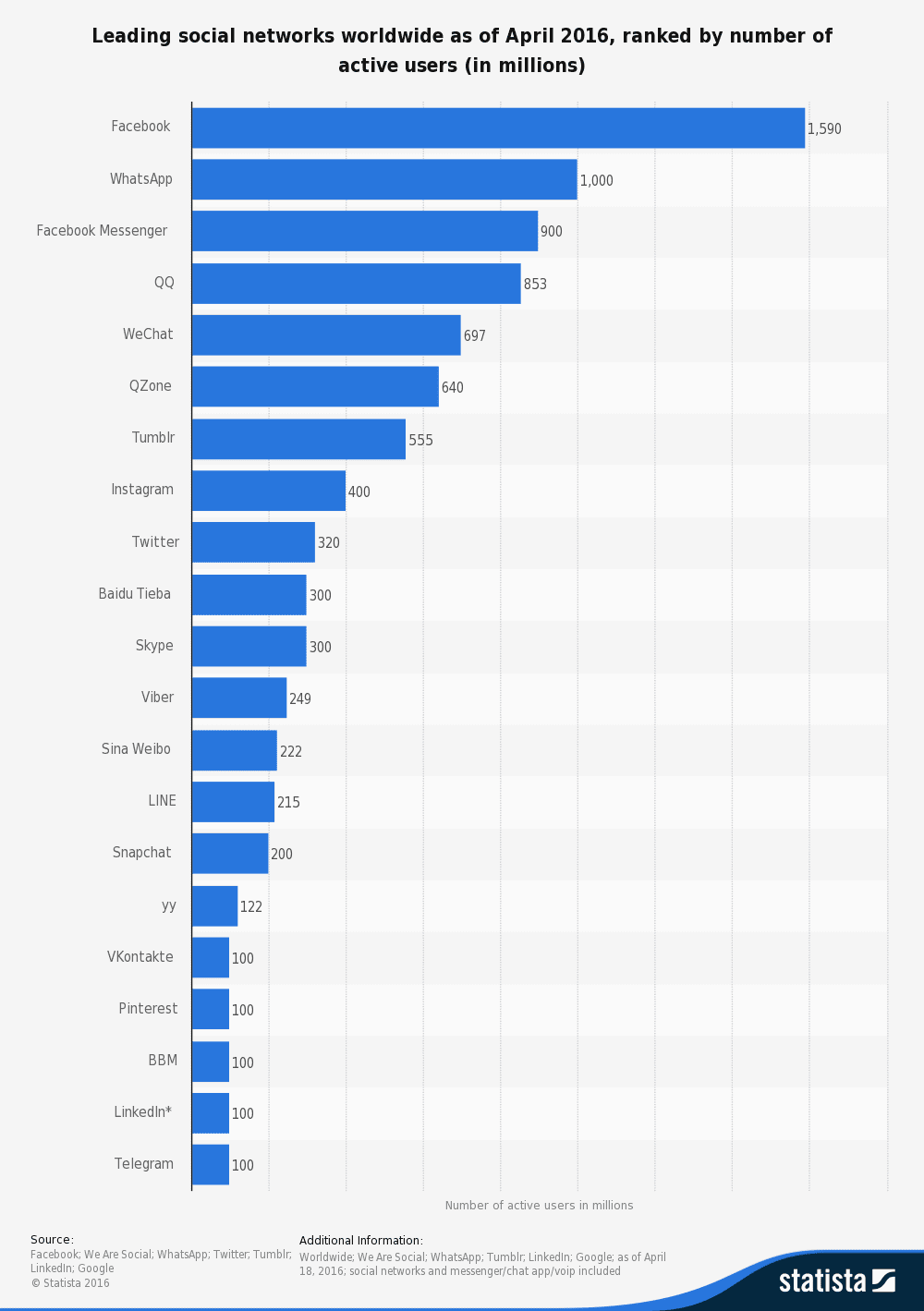 How do you automate all of this?
This is the beauty of technology. You have a lot of options. This is also the disadvantage. You have a lot of options.
For those that have never touched marketing automation before I encourage you to start with something simple like MailChimp's automation workflows feature. This is a silly simple way of creating workflows without having to break your back over it.
As you progress and gain a greater understanding of marketing automation then you can look at higher end products like Infusionsoft, HubSpot or Act-On.
Start marketing
I've given you some of the basics to work with here. If you're not doing email marketing, get on it. Keep connected with your customers and invite your prospects to learn more about your business.
My biggest tip with email marketing is to educate. If you start spamming your list with a bunch of sales offers not only are they not going to buy but you're going to ruin your reputation quickly. The trick with marketing automation is to use it to help you build better relationships. Don't ever forget that.